'Perspectives and Policies to steer Science, Technology and Innovation for the Sustainable Development Goals'
In times of unprecedented uncertainty, there is an increasing need for open dialogue on how to direct research and innovation investments towards sustainable and inclusive solutions. The STRINGS project has been tackling this complex challenge, investigating how to better understand the ways in which science, technology and innovation (STI) impacts upon efforts to achieve the UN Sustainable Development Goals (SDGs).
On Monday 28 February and Tuesday 1 March 2022, STRINGS hosted an online workshop – including presentations by the STRINGS research team on their project findings and guest speaker talks – to facilitate constructive discussions around the challenge of steering STI to address the SDGs.
Below, we provide an overview and recording of each session. We advise you to watch the recordings on desktop to view the presenters' slides, which are unavailable on mobile view.
Session 1: Can current science, technology and innovation (STI) pathways lead to sustainable development?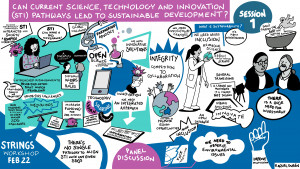 Chair: Andrew Stirling (Science Policy Research Unit (SPRU), University of Sussex)
Opening remarks by speakers from the United Nations Development Programme (Pedro Conceição, Director of the